GYMNASTIC SESSION
SUFC WOMEN's FOOTBALL TEAM
Y6 Football Competition
Cross Country Race - Parkwood Springs
HEALTHY SCHOOLS PROGRAMME 2018
Goalball 2018
Our Year 3 children had a fantastic time experiencing

Goalball

UK's new National Schools Programme. Goalball is an exciting Paralympic sport designed for people who are blind and partially sighted, however domestically and at a school level anybody can play!
What an active Golden Time!
David Smith a GB Athlete visited our school today - he definitely put the children through their paces
Frisbee Competition at Forge Valley
Sports Week 2018 Day 5 - Celebration Assembly
Sports Week 2018 Day 5 - Yogathon
Sports Week 2018 Day 5 - Run a Mile
Sports Week 2018 Day 5 - Paralympics
Sports Week 2018 Day 4 - Gymnastics
Sports Week 2018 - KS1 Sports Day
Sports Week 2018 Day 3 - KS2 Sports Day at EIS
Sports Week 2018 Day 2 - Martial Arts
Sports Week 2018 Day 1
Ash Randall Visit
SUFC Players
Look who visited our school!
Y4 Basketball Team
Some of the Year 4 children participated in the Basketball Competition at Forge Valley Secondary School - they were amazing!
What an amazing Sports Week
RUN A MILE
Every class throughout school is taking part in Run a Mile every day.
Sky Sports Living
Some of our KS2 children participated in the Sky Sports Living for Sport. This was run in partnership
with Youth Sport Trust and was supported by world-class Athlete Mentors. The children were inspired
and it helped to build confidence and improve their practical skills.
Energiser
Our school already offers an average of two hours of PE per week. However, we need to do more to
encourage children to be active every day. So watch out for Mrs Bannister-Gregory, she is on a mission to
get us all participating in moderate to vigorous physical activity every day.

SIV
Some children were invited to a new and exciting festival that took place at ICESheffield. Ten children
had the opportunity to try a number of activities - Ice Skating, a mini Curling festival on the Ice and High
Ropes - they all had a fantastic day.

SUFC Visitors
Billy Sharp (club captain) and Simon Moore (goalkeeper ) visited school today. They shared some of their favourite books with the children and answered many questions related to football and life. The children were very excited and really enjoyed talking and having their photographs taken with the stars.
Parliament Programme
One of the coaches from Sheffield United Community Foundation delivered the Parliament Education Programme to our Year 5 and 6 children. The day comprised of workshops and assemblies based around Parliament and democracy the children were really engaged with Parliament, democracy and politics through themes of
rule-making
and active citizenship.
Chance to Shine Cricket
C
hance to Shine is bringing cricket to thousands of young people in inner- city areas. It uses the game to increase aspiration, promote social cohesion and create opportunities. The Year 5 children are really enjoying the
opportunity
and are looking
forward
to the cricket
competition in
June.
GB Swimmer
Ellie Falkner visited the school to share her experiences of swimming with the Great Britain Team - she definitely inspired many individuals.
Eleanor Faulkner returned to the Olympic stage in 2016 for her second Games representing Team GB and following two visits to the podium at the 2016 British Championships with silver in the 200m and 400m freestyle. 2015 saw Ellie make her World Championship debut in Kazan, Russia as part of the Women's 4x200m freestyle relay team. She made her Commonwealth Games debut for England at Glasgow 2014, finishing seventh in the 400m freestyle, 11th in 200m freestyle and helping the 4x200m freestyle relay quartet to bronze. Eleanor was one of just two British swimmers at the Youth Olympics and competed over double the distance at London 2012 where she finished 22nd in the heats. Back in 2010 at the Youth Olympic Games in Singapore Ellie highlighted her future potential – winning 400m freestyle bronze.
Handball Competition
Another fantastic competition held at Forge Valley - well done to our team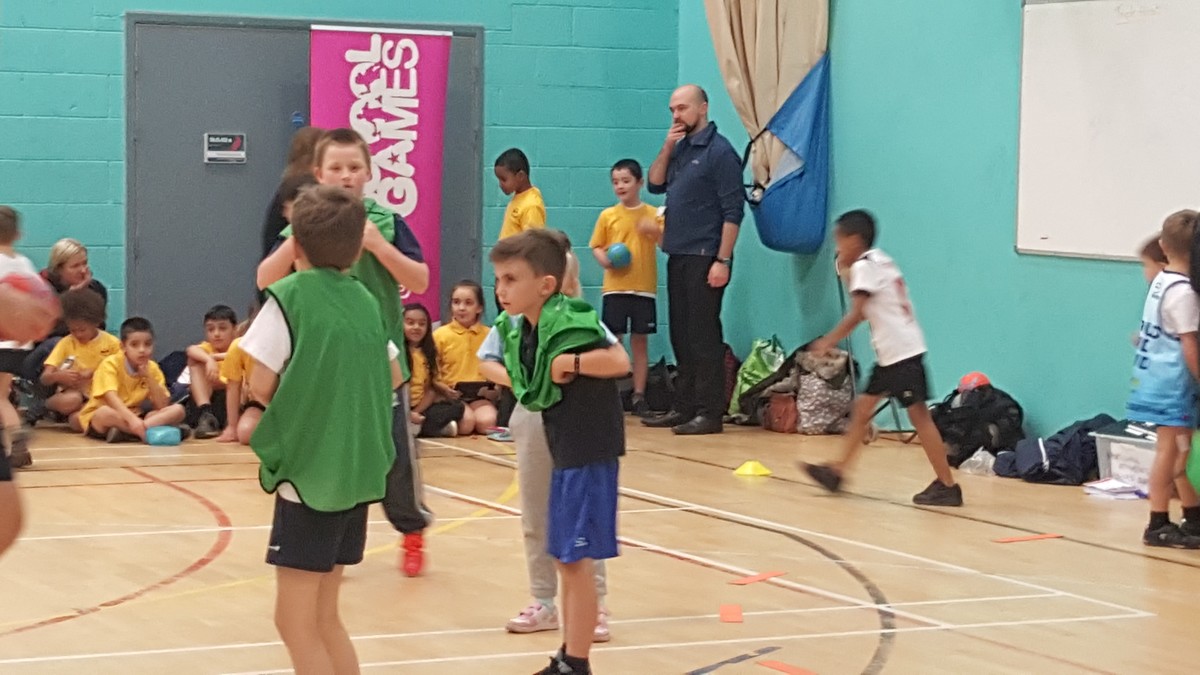 Y4 Basketball Competition
The Y4 children were invited to attend the Hotshots Basketball competition on Thursday 24th November at Forge Valley. Teams consisted of 5 boys and 5 girls - they played amazing and we came 3rd.
CROSS COUNTRY
A great start to the Cross Country season, well done to all the runners.
SPORTS WEEK
We had a fantastic SPORTS WEEK.
It all started on the Monday morning with the delivery of the Zorb balls, crazy golf, 3 in 1 balls skills and the circus assault course - these were all set up on the school field and would be here for 2 days. Meanwhile in the KS2 hall we had a Judo expert who spent 2 days teaching all the children the fundamental skills needed in Judo. On the Wednesday our Year 6 children organised the sports day for the reception and KS1 children. In the KS2 hall more action took place in the form of Paralympic activities. On the Thursday all KS2 children spent the day at EIS (English Institute of Sport). The action packed day saw many individuals running on a race track for the first time. Back at school the KS1 children were enjoying a roll around on the Tumble Track. Friday saw more action - athletics and Run a mile.
CHEERLEADING ASSEMBLY
The children form the Cheerleading after school club showed off their skills to the rest of the school - they were
amazing
!!
ATHLETE IN SCHOOL
We were very excited to welcome GB Olympic Swimmer James Kirton to our school. James has represented Great Britain for over 6 years. James defied injuries to swim his way to the 2008 Olympics in Beijing. He
lead a sponsored fitness circuit with all pupils, and followed this up with a talk and question and answer session. The aim of the event was to inspire the pupils to take up sport generally, but just as importantly to encourage them to discover and then pursue their passion in life.
Y6 FOOTBALL COMPETITION
Some Year 6 children attended the School Sport Festival at SUFC Academy. We entered 2 teams for the 6-a-side competition.
We are really pleased to announce that Rivelin WON the tournament. Well done to everyone for participating in this event.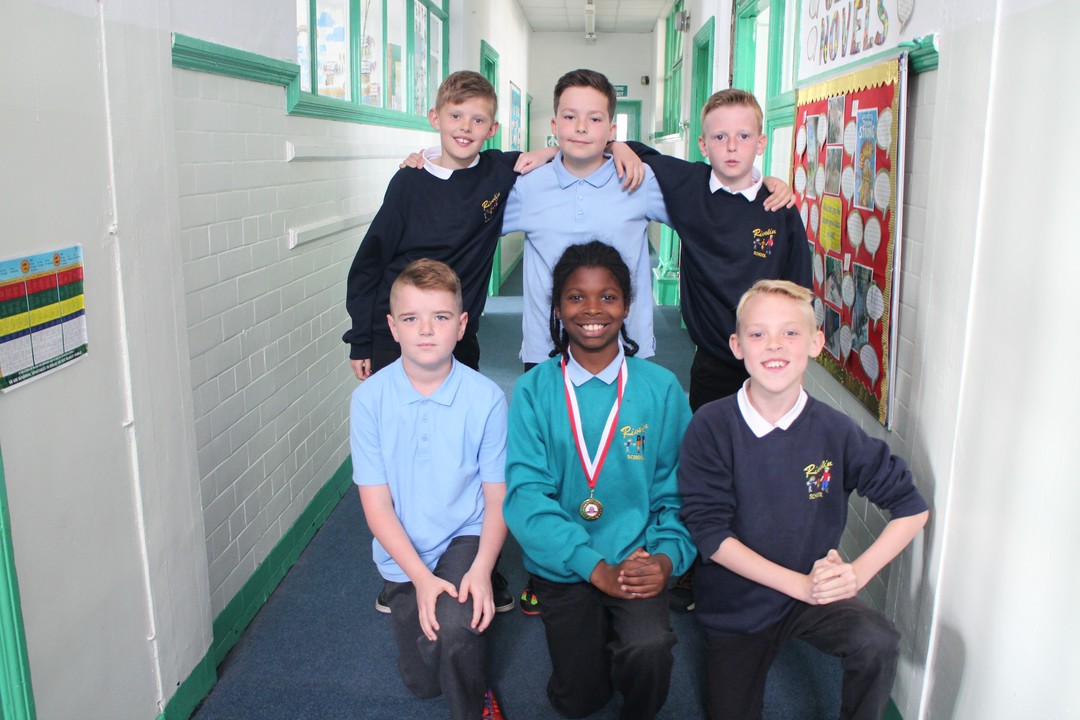 TRIATHLON
We entered our school into the 2016 Tata- Kids of Steel® triathlon event at Westfield Sports Centre on Tuesday 3rd of May.
This event was delivered by the British Triathlon Trust on behalf of British Triathlon and Tata Steel. It was an inclusive activity suitable for children of all abilities, even the non-swimmers or those that are not confident riding a bike.
The aim was to give youngsters the opportunity to try all three aspects of triathlon and encourage them to lead an active and healthy lifestyle. All the children thoroughly enjoyed themselves.
ICESHEFFIELD
Year 5 children were invited to a new and exciting festival that took place at ICESheffield.
Ten children had the opportunity to try a number of activities - Ice Skating, a mini Curling festival on the Ice and High Ropes - they all had a fantastic day.
Climbing Wall
We are very fortunate this year to be working with Activity Sheffield. Throughout the year we will be hosting many unique exciting experiences starting off with, 'Street Climb'. This is a mobile climbing wall that gave the children a taste of what climbing is all about. There were fully qualified instructors leading the activity, it was safe, fun and provided a variety of heart-pumping routes up to the 9m high summit.
Sports Day
Our amazing Sports Day on Friday 26th June -
Parents and carers were treated to a free box of Yorkshire tea to celebrate National Cricket week. Here are some photos to show what a fantastic time everyone had.
SKIPATHON
On Tuesday 23rd June, our Reception to Year 6 children took part in a 'Skipathon' to raise money for the British Heart Foundation. They raised over £500, thank you to all who contributed.