P.E at Rivelin - A Gallery
Here at Rivelin we are proud to be an incredibly active community. The children have many opportunities to get involved in a variety of sporting activities, helping widen their knowledge of sports and being active. Over the years we have had a number of professional athletes join us for the day, spending time with the children, they love it! Alongside our annual sports day for the whole School, we get involved in run a mile and external competitions too, giving the children the opportunity to interact and compete with other Schools.
Take a look below at some pictures of our Children taking part in our sporting activities!
Gymnastics
SUFC Women's Football Team
Y6 Football Competition
Cross Country Race @ Parkwood Springs
Healthy School's Programme 2018
Goalball 2018
Our Year 3 children had a fantastic time experiencing

Goalball

UK's new National Schools Programme. Goalball is an exciting Paralympic sport designed for people who are blind and partially sighted, however domestically and at a school level anybody can play!
Golden Time!
David Smith a GB Athlete visited our school today - he definitely put the children through their paces!
Frisbee Competition @ Forge Valley
Sports Week 2018 Day 5 - Celebration Assembl

y
Sports Week 2018 Day 5 - Yogathon
Sports Week 2018 Day 5 - Run a Mile
Sports Week 2018 Day 5 - Paralympics
Sports Week 2018 Day 4 - Gymnastics
Sports Week 2018 - KS1 Sports Day
Sports Week 2018 Day 3 - KS2 Sports Day at EIS
Sports Week 2018 Day 2 - Martial Arts
Sports Week 2018 Day 1
Ash Randall Visit
SUFC Players
Y4 Basketball Team
Year 4 Dance Off!
Sports Week!
Run a Mile
Sky Sports Living
Some of our KS2 children participated in the Sky Sports Living for Sport. This was run in partnership
with Youth Sport Trust and was supported by world-class Athlete Mentors. The children were inspired
and it helped to build confidence and improve their practical skills.
SIV
Some children were invited to a new and exciting festival that took place at ICESheffield. Ten children
had the opportunity to try a number of activities - Ice Skating, a mini Curling festival on the Ice and High
Ropes - they all had a fantastic day.
SUFC
Billy Sharp (club captain) and Simon Moore (goalkeeper ) visited school today. They shared some of their favourite books with the children and answered many questions related to football and life. The children were very excited and really enjoyed talking and having their photographs taken with the stars.
Parliament Programme
One of the coaches from Sheffield United Community Foundation delivered the Parliament Education Programme to our Year 5 and 6 children. The day comprised of workshops and assemblies based around Parliament and democracy the children were really engaged with Parliament, democracy and politics through themes of
rule-making
and active citizenship.
Chance to Shine Cricket
C
hance to Shine is bringing cricket to thousands of young people in inner- city areas. It uses the game to increase aspiration, promote social cohesion and create opportunities. The Year 5 children are really enjoying the
opportunity
and are looking
forward
to the cricket
competition in
June.
GB Swimmer
Ellie Faulkner visited the school to share her experiences of swimming with the Great Britain Team - she definitely inspired many individuals.
Cross Country
Sports Week 2017
Cheerleading Assembly
Athlete in School
We were very excited to welcome GB Olympic Swimmer James Kirton to our school. James has represented Great Britain for over 6 years. James defied injuries to swim his way to the 2008 Olympics in Beijing. He
lead a sponsored fitness circuit with all pupils, and followed this up with a talk and question and answer session. The aim of the event was to inspire the pupils to take up sport generally, but just as importantly to encourage them to discover and then pursue their passion in life.
Y6 Football Competition
Some Year 6 children attended the School Sport Festival at SUFC Academy. We entered 2 teams for the 6-a-side competition.
We are really pleased to announce that Rivelin WON the tournament. Well done to everyone for participating in this event.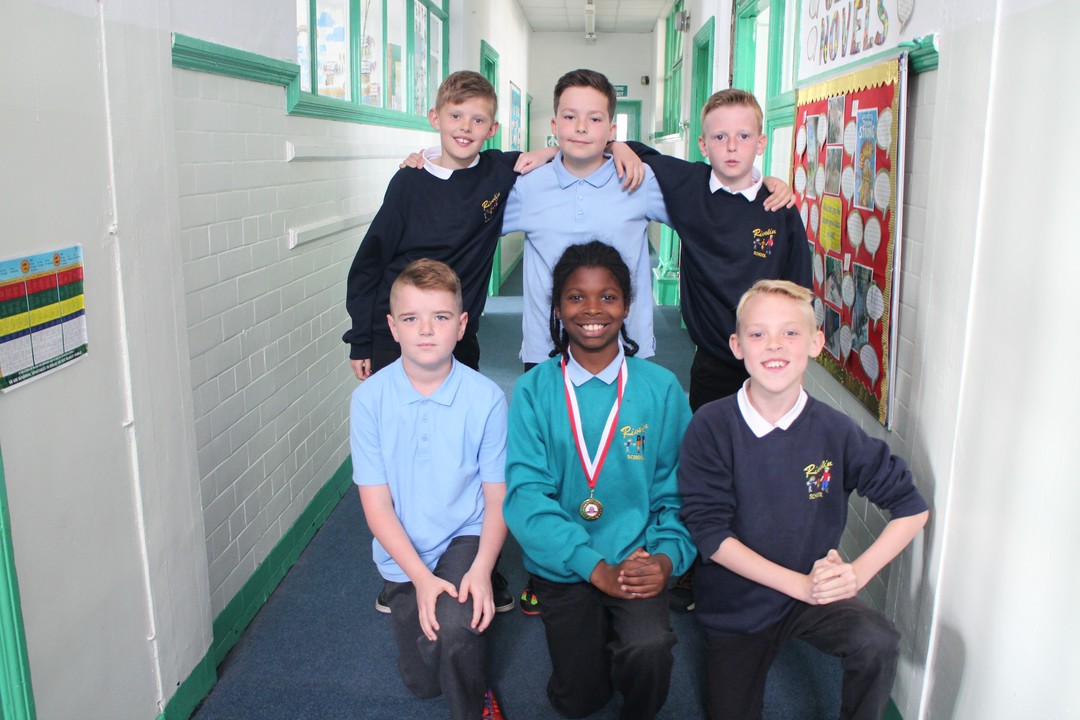 Triatholon
Ice Sheffield